Differentiating Between Clock and Motor Springs
14/03/2016
Just as spring clips and wire forms can be visually very similar, the same is true for clock and motor springs, both of which resemble a spiralling circle.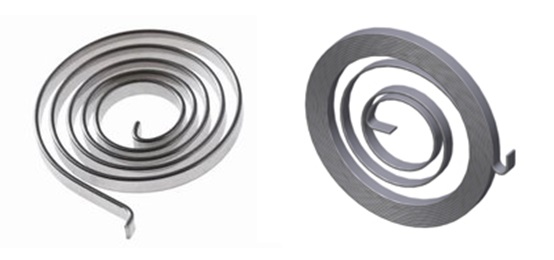 While they're used in different circumstances, it can be confusing to not only distinguish between them, but to also know which one to use in a specific situation.
Clock Springs
These springs are made to provide torsion, which means they can sometimes be used instead of more traditional torsion springs, because they can rotate in circular movements. So instead of being twisted and exerting a force (or torque) in the opposite direction, the force of a clock spring involves the axis of an object – resulting in it being pushed onto another object by the outer edge of the spring.
Motor Springs
These springs are designed to act like a constant force spring, which means they can provide rotational energy from the attached shaft. This constant force is due to the fact that the spring exerts a restraining force that resists uncoiling. Although these springs also have a torsion design, they can provide more turns than a torsion spring, and are usually able to offer 10 to 20 turns of force.
If more is needed, several motor springs together can achieve the desired performance – they're covered in a protective band that minimises friction, although the springs should also be lubricated if they're going to be put together. A typical motor spring is made from stainless steel and its longevity depends on its size and maximum torque.
Differences Between These Springs
Clock springs are prepared from flat wires and are coil friction free, because they're mounted using open style coils. They also have less torque than motor springs, since they're regularly used to make up the stainless steel components of a watch. This material also means that the spring can last longer, since it doesn't wear off as easily as other materials.
As for motor springs, they can be found in places like windshield wipers and car engines and, unlike clock springs, they're capable of storing a high level of energy, which allows them to work with high degrees of stress.
Different springs are used for different applications, meaning that no matter which one you need, you're able to find bespoke solutions that work for your specific project. Whether you require clock or motor springs, at European Springs we always offer high quality products, so you know you're getting your money's worth.
To find out more about our springs, feel free to get in touch with us or call us on 0208 663 1800, and we'll be more than happy to help you get the right spring for your project. If you want to keep up to date with our latest news and updates, follow us on Facebook and Twitter.
European Springs