Motor Springs Manufacturers
European Springs also design and manufacture motor springs constructed using the design and structure of a specially stressed constant torque spring. This design means the spring can provide rotational energy from the attached shaft, locked with a catch, pin or housing edge. This specific design of motor springs allows for an average 10-20 spring force turn.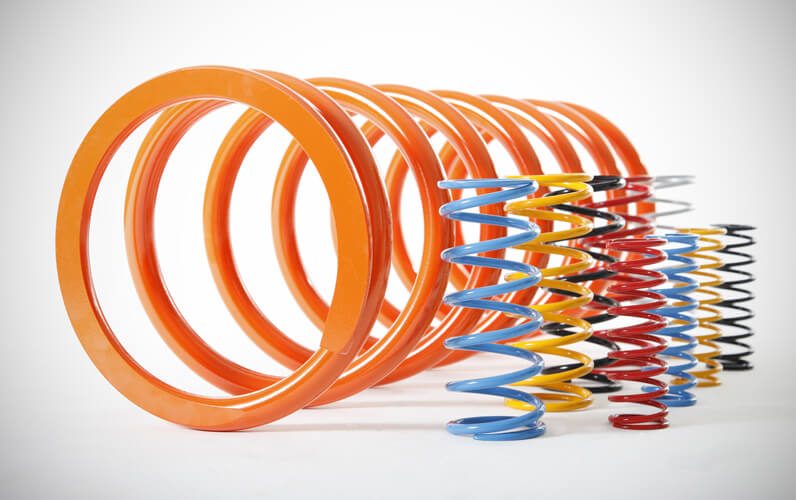 Sometimes, more torque is required than what a standard singular motor spring can provide, and in this case, several motor springs together can make up the optimum performance needed. Our motor springs are made of stainless steel and have a long fatigue life dependent on spring size and maximum torque output on a number of operations.
Springs placed in housing with the outer hook located around a pin have the smallest internal diameter. They can be placed in larger housing, but the applied force will decrease, but it is possible to slightly increase the diameter of the inner coil for placement on a larger shaft. However, if more torque is required and more springs are added, our motor springs are covered in a protective nylon band to minimise friction, but we also advise lubricating the springs when assembling.
Race Car Springs: Precision and Performance
In the adrenaline-fueled world of motorsports, precision engineering is paramount, and every component plays a crucial role in achieving optimal performance. When it comes to race cars, the role of springs cannot be overstated. These seemingly humble components are the unsung heroes of the racing circuit. Whether it's absorbing shocks, maintaining tire contact with the track, or ensuring the stability of the vehicle through high-speed turns, springs are the silent partners in delivering peak performance. At European Springs & Pressings, our motor springs are meticulously crafted to meet the exacting standards of the motorsports industry. With precision and durability at their core, our springs help race cars push the boundaries of speed and agility, showcasing the vital role these components play in the pursuit of victory.
Contact Us for High-Quality Motor & Race Car Springs
Since 1948 we have been expert spring manufacturers, offering springs of superior quality and supplying many industries across the world. We are committed to providing our customers with excellent service, so if you require more information about our motor springs or any of our other products, please get in touch, and we can discuss your project's requirements.