Vertical Transport Systems in the World's Tallest Structures
10/08/2015
At European Springs we produce and provide reliable spring solutions worldwide for anything from
flat springs
to
bespoke springs
which serve a very individual and specific purpose.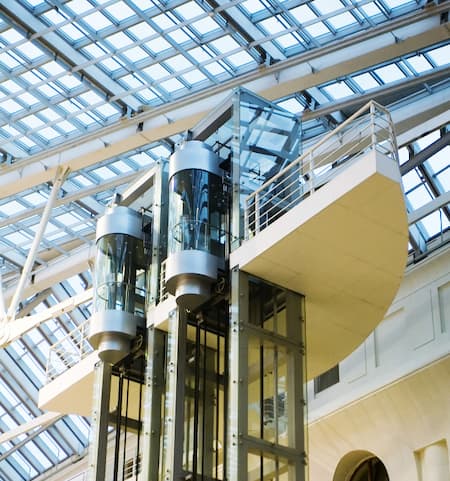 You can almost guarantee that wherever there is an efficiently working system to-ing and fro-ing, there's a spring at the heart of it. For example, take Axess2 with their glass elevators, if you've ever been in one or even seen one you will probably have noticed a significantly large hydraulic or gas spring acting as a cushioning-buffer at the base. This is to allow for safe braking should the trusty lift's braking system experience the unlikely event of stalling or breaking.
Elevators in Taller Buildings
When it comes to structural engineering and implementing such an accessibility solution, there are other difficulties which can emerge; lift technology becomes a factor which can ultimately limit its own installation. Steel cables are used throughout the world when it comes to installing an elevator, however in taller buildings the cables come under huge strain, primarily down to their own weight. The fact that a lift can only really reach a maximum height of around 500m has major implications on the floor a lift can reach which is why lifts can quite often only go up to a certain point in taller structures.
Engineering Comfort
The effort involved in making these lift structures bearable, let alone comfortable, is invisible. Nevertheless, if the installation and building construction wasn't carefully considered at every step, external mitigating factors such as wind would cause the structure to sway and would even leave users of the lift feeling seasick! Special consideration must be taken towards fire as well as wind, meaning that engineers must rely on strong and robust stability systems for the interior and exterior of the construction.
A spring is but one 'cog' in the whole structural engineering process, but without it where would we be? There are numerous challenges that engineers face when constructing an elevator solution and dealing with individual access needs. However, with continual improvements in technology and sophisticated modelling systems, along with the increasingly important robust stability systems – which become ever more important the taller and taller buildings get – we haven't seen the end of structural engineering's innovation.
If you would like to discuss the innovation and multi-compatibility of our spring solutions, or would simply like to discover how they can aid with your structural engineering or lift installation project, please don't hesitate to contact us on 0208 663 1800 where one of our friendly team of industry specialists will be awaiting your call.
European Springs