How is it Made? The Humble Stapler
14/08/2015
Have you ever stopped and considered how every day things around you are made? We're talking about the things that you might use in your job every day yet have never really given them much thought. We take these things for granted, but not anymore! Today we are going to delve into the life of a stapler. How is it made? What is the process involved? All those burning questions you've been dying to know – we have the answers.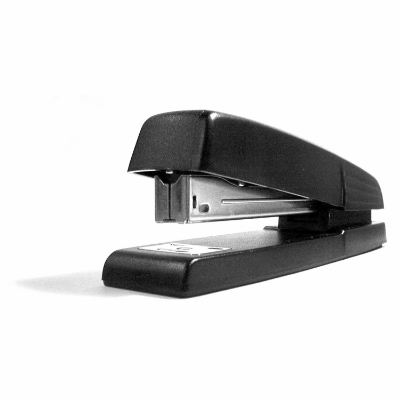 A stapler is an incredibly useful tool that is mostly found in offices and educational settings. A lot of people also own their own at home! It's used to fasten together sheets of paper with staples. They are available in a number of different colours and sizes.
Pstttt did you know?
A stapler comprises of many components! The majority of this is metal stamping and spring parts. In an average office stapler, there are around 8 different parts. This includes the metal head, magazine, anvil, base, staplers, pin, springs and the hanger. The magazine is connected to the head and is the part that homes all the staples. The hanger is the piece that connects the head and base together. The pin is the part that you see at the back of the stapler, which is responsible for letting the head swing up so that staples can be inserted.
Springs, springs, springs
In a stapler, several types of springs are commonly used to facilitate its operation:
Magazine Spring: The magazine spring also known as tension springs, applies tension to the staple magazine, pushing the staples forward for proper feeding into the stapler mechanism.
Return Spring: The return spring, also know as compression springs, is responsible for retracting the stapler handle or plunger after each staple is expelled, resetting the stapler for the next use.
Tension Spring: The tension springs provide the necessary force to hold the staples in position within the stapler mechanism, ensuring they are properly aligned for effective stapling.
Spring-loaded Safety Catch: Some staplers may have a spring-loaded safety catch mechanism that locks the stapler handle in place until sufficient pressure is applied to release it, preventing accidental stapling.
There are a lot of other parts that go into making the stapler – but we think the springs are the most important. As leading experts in the field of spring manufacturing and pressing, including being disc spring manufacturers , we provide our clients with the best springs and pressings all over Europe.
To find out more about what we do or if you have any questions, please don't hesitate to contact us . You can give us a call on 0208 663 1800 and a member of our team will be happy to help.
European Springs