The Robotic Rights Act: Should Robots Have Rights?
21/09/2015
We seem to be a step closer to Skynet with every new development in artificial intelligence. We've spoke previously about the development of the 'mother' robot and her 'baby' robots. It's a scary thought, robots learning to reproduce and programme themselves, yet that doesn't seem to be stopping engineers and scientists around the world from creating new, advanced and slightly terrifying robotic intelligence.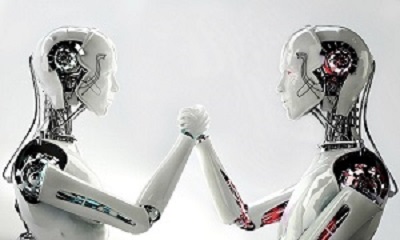 As the best extension, torsion and flat spring manufacturers in Europe, we like to keep on top of the industry and all that it involves; robots included.
Self-aware Robots
In July we saw the first proof of robots becoming self-aware.  To eliminate any anomalies, three Nao bots were sat side by side. The robots were programmed to believe that two of them had taken a "dubbing pill" which prevented them from speaking while the third had been given a placebo.  
The robots had to find out which of them had been given the "dubbing pill". When asked the question all three seem to be considering the question. The Nao bot who responds becomes self-aware at the point when it recognises its own voice claiming "Sorry, I know now! I can prove I was not given the dubbing pill."
The scientists at The Rensselaer Al and Reasoning Lab in New York who carried out the experiment claim this display of logic shows basic self-awareness in robots.
This advancement in robotics has brought on an important question. Are self-aware robots entitled to rights?
On the one hand they're still robots, they're not a living creature. On the other hand, giving them self-awareness makes them a living creature; it enables them to learn and behave accordingly. Scary as this is, some countries have taken a stand against robots being used in certain sectors such as the military.
Ethical Robots
Iceland have recently stood up against the use of robots in military, and military funded projects. We can't help but admire their firm stance against using self-aware and thinking robots in military operations.
As a country which has lasted for 1100 years without any army and no involvement in war of any kind, it's seems only right that the Icelandic nation has become the very first in the world to shout out against using robots for military programmes.
The Icelandic Institute of Intelligent Machines (IIIM) reached a unanimous verdict of ethical robots last month and we can't help but applaud them. With 87 countries already using robotics in their military, we see the ethical robot movement as a step in the right direction.
Whatever happens with robots in the future, we're sure Ultron and Skynet will never surface. The debate on whether or not robots should have rights in light of their self-awareness is still ongoing, we're a long way off putting the debate to the test.
For more information on what springs we can offer you, contact us today on 0208 663 1800.
European Springs