Springs in 2014 Queen's Award Winner
21/05/2014
The
2014 Queen's Award for Enterprise
in Innovation has recently been awarded to Hill Engineering – a Newry based business – and, as always, it was very interesting to see the fundamental role that springs played within their winning design.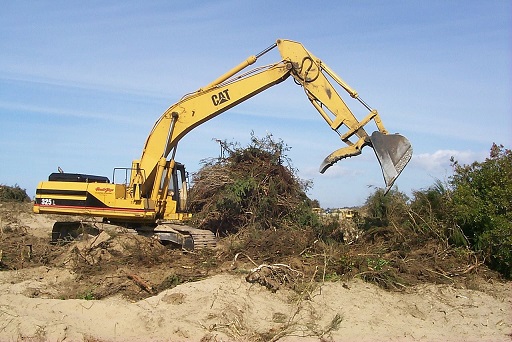 The innovation in question is a newly patented double locking hydraulic coupler, named 'Tefra', and this invention has been jointly hailed as the deciding contributor behind Hill Engineering's doubled workforce, and also a significant breakthrough with regards to the safety of semi-automatic couplers on construction sites too.
Used on a range of excavators, the Tefra is also far more robust than its predecessors due to an uncomplicated design, and according to an article on the Construction Index the Active Protection System upon this device is heavily reliant upon certain springs within its core mechanisms. Both coil and leaf springs are used within this award winning coupling, and each of these components brings something vital to the design.
The coil spring has been used to encircle the cylinder within the coupler, making certain that hydraulic problems – or even total failure – won't displace the correct positioning of the rear hook, whilst the leaf spring serves a similar function on the front hook. These springs mean that the hooks of the coupler will always remain aligned, and they also allow them to return to closed position in the safest possible manner as well.
This is far from the first time that springs have seen heavy use within a ground breaking new device, and similarly it is no surprise to see them being utilised to provide a mechanism with improved safety features. Here at European Springs, our torsion springs allow door hinges to 'bounce' enough to return to their original position, rather like the closing of the hydraulic coupling, and many of our other springs are used in crucial safety applications like car suspension too.
We're no stranger to ambitious projects involving springs, and so we're able to provide you with the ideal springs no matter whether you are planning to use our products in a very common fashion, or are looking to create your own award winning device. The key to our service is our ability to design and manufacture bespoke springs to suit your exact blueprints, so we can help you regardless of what you might need.
To find out more about our springs, please don't hesitate to contact us by calling +44 (0) 208 663 1800 or emailing info.bec@europeansprings.com. We'll always be happy to discuss your situation in detail.
European Springs