Upcoming Exhibitions: Where Will You Find European Springs?
Exhibitions are incredibly important for manufacturing companies such as ourselves for several reasons. For example, they are excellent networking opportunities and allow manufacturers to connect with other businesses in their industry. This can lead to partnerships, collaborations, and other beneficial relationships.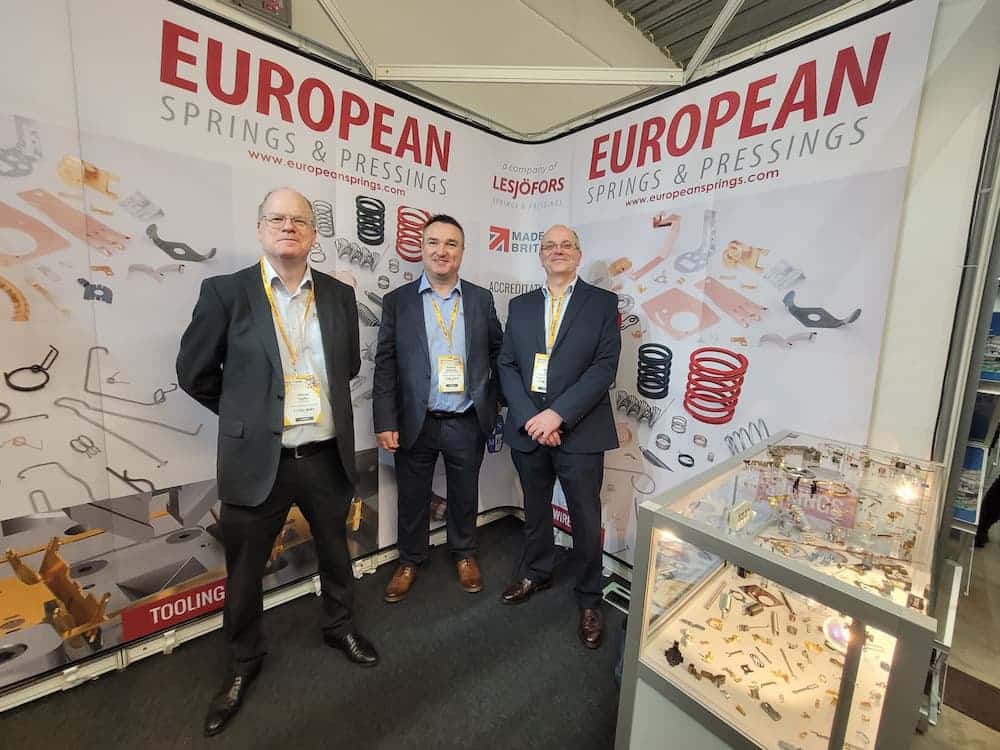 In addition, exhibitions allow us to showcase our compression springs, flat springs, and other products and services to a large number of potential customers, hopefully leading to valuable leads and new business opportunities. They are also the perfect chance to improve brand awareness, offer market research opportunities, and conduct competitor analysis.
Because of their long list of advantages, we make sure to have a jam-packed calendar of exhibitions and travel across the world to showcase what we do and connect with those in the industry. So let's take a look at what we have planned for the year and where you can visit us.
The Security Event – 25th-27th April
The Security Event is an annual trade show and conference dedicated to the security industry. It features exhibitors from various security industry sectors, including access control, fire safety, CCTV, cybersecurity, perimeter protection, and more.
We're thrilled to attend this important event and can't wait to speak to industry experts and customers alike. So visit us at The Security Event this week at the NEC in Birmingham; you can find us at stand 4/J42.
Get more information: https://www.thesecurityevent.co.uk/
National Manufacturing & Supply Chain Conference and Exhibition – 23rd-24th May
The National Manufacturing & Supply Chain Conference and Exhibition is an annual event held in Ireland that brings together manufacturing and supply chain professionals to discuss and showcase the latest trends, technologies, and best practices in the field. The exciting event features a wide range of industry experts and keynote speakers offering unique perspectives.
The National Manufacturing & Supply Chain Conference and Exhibition is a great opportunity for professionals in the manufacturing and supply chain industries to connect, collaborate, and gain insights into the latest innovations and trends in their field.
Get more information and register your interest: https://www.manufacturingevent.com/
Aircraft Interiors Expo (AIX) – 6th-8th June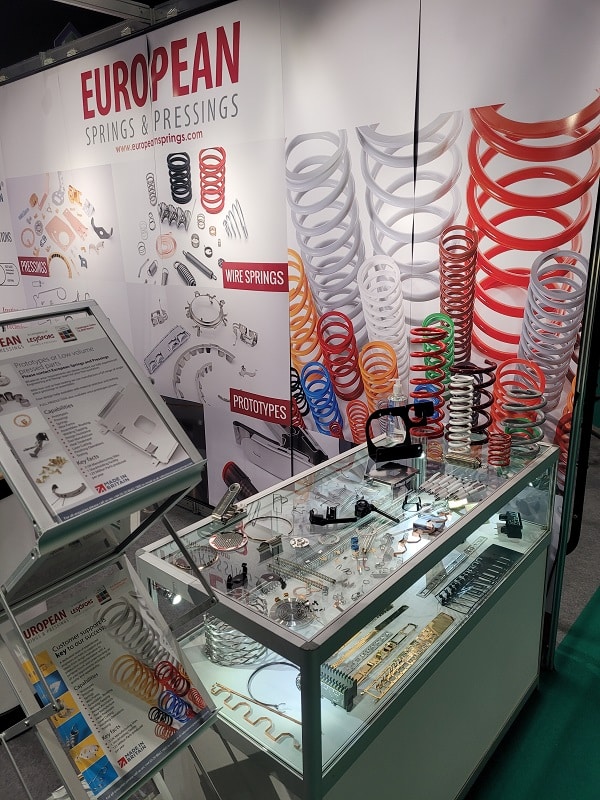 The Aircraft Interiors Expo (AIX) is an annual event focused on the latest developments and innovations in aircraft interior design, technology, and equipment, so as spring manufacturers for the defence and aerospace industry, we're always excited to get involved. The expo, held in Germany, brings together suppliers, manufacturers, designers, and industry professionals from around the world to showcase their products and services across a wide range of topics.
Get more information and register your interest: https://www.aircraftinteriorsexpo.com/
Subcon – 7th-8th June
Subcon is an annual UK-based manufacturing and engineering trade show that brings together professionals and companies involved in the manufacturing supply chain. The event showcases the latest innovations, technologies, and services in many of the industry sectors we supply our springs are pressings for, such as aerospace, automotive, defence, energy, medical, and rail.
Get more information and register your interest: https://www.subconshow.co.uk/
Machine Building.Live – 4th October
Machine Building.Live is an exceptional opportunity to connect with the largest gathering of machine-building experts ever assembled in the UK. This one-day event features a unique format designed to maximise your access to information in a minimal time.
We're thrilled to be attending this fascinating exhibition and showcasing our exceptional products that go into producing an endless list of machines.
Get more information and register your interest: https://machinebuilding.live/
Engineering Design Show – 11th-12th October
Established in 2012, the Engineering Design Show is an annual event connecting engineering professionals showcasing their latest engineering design, manufacturing, and electronics innovations. The show is aimed at engineers, designers, and decision-makers involved in designing and developing new products, systems, and technologies, making European Springs and our spring design experts an ideal fit.
Get more information and register your interest: https://www.engineeringdesignshow.co.uk/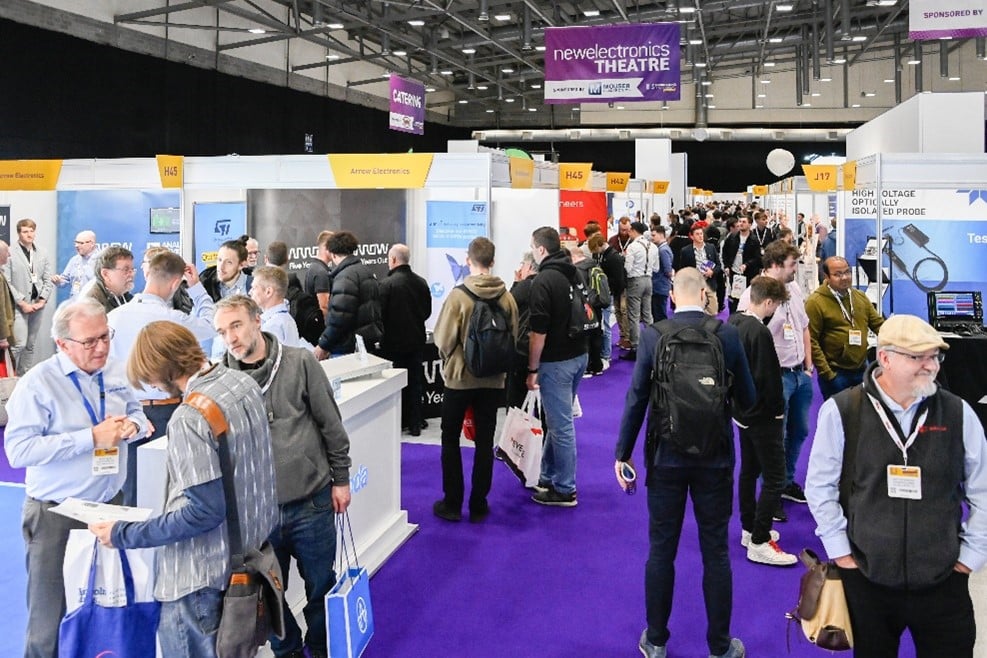 UK Manufacturing & Supply Chain Glasgow – 25th October
The UK Manufacturing & Supply Chain Glasgow is designed to provide a platform for businesses to showcase their products, services, and technologies, as well as network with other professionals and stay up-to-date with the latest industry trends. Featuring a range of exhibitors from different manufacturing industry sectors, visitors can expect to see demonstrations of new technologies, equipment, and processes, as well as attend seminars and workshops on topics such as automation, sustainability, and digitalisation.
Get more information and register your interest: https://www.manufacturingexposcotland.com/
Advanced Engineering – 1st-2nd November
The 14th edition of Advanced Engineering will feature several interactive zones, including a startup zone, a connected manufacturing zone, and a composite engineering hub. These areas showcase the latest innovations and provide attendees hands-on experience with new technologies. Here at European Springs, we're always looking for new ideas and fresh solutions, and this event is all about looking to the future and embracing important change.
Get more information and register your interest: https://www.advancedengineeringuk.com/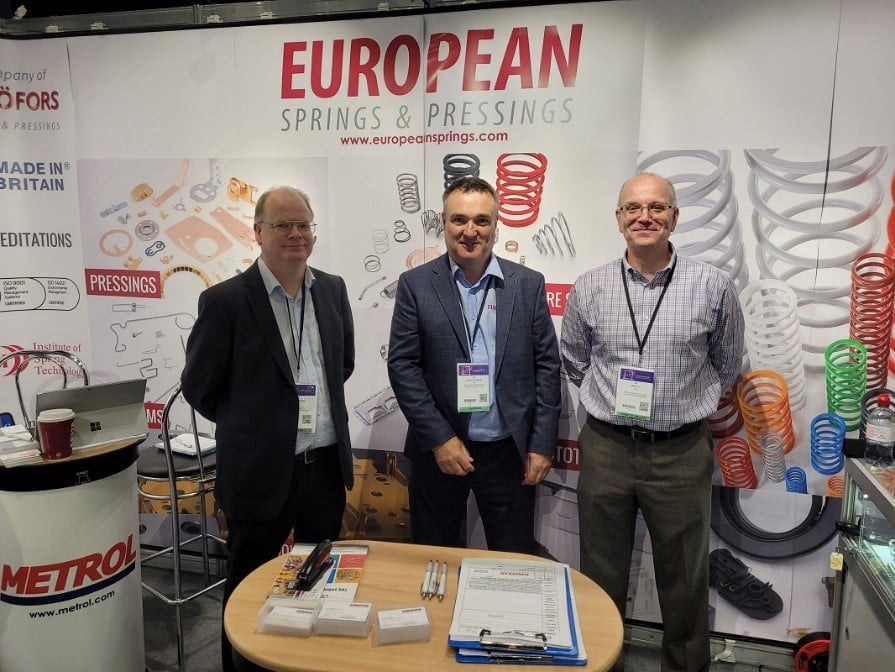 Tips for Visiting European Springs at an Exhibition
If any (or all) of these events have piqued your interest and you'd like to visit us at one of the exhibitions, we'd like to offer some of our top tips. After decades of attending these events, we've become quite the experts!
Plan ahead. Before attending the exhibition, research the exhibitors, the products they offer, and the topics that will be covered. This will help you identify the most relevant booths and presentations to attend and make the most of your time at the exhibition.
Wear comfortable shoes. Exhibitions are usually quite large, and you may need to walk around for several hours, so wearing comfortable shoes can make a big difference in your experience.
Take notes. Whether you're attending on behalf of your business or as a customer, bring a notebook and pen or use your smartphone to take notes about the products, technologies, and ideas that interest you. This will help you remember what you learned and make it easier to follow up on opportunities after the exhibition.
Engage with exhibitors. Don't be afraid to ask questions and engage with the exhibitors. We are there to showcase our products and services and are always more than happy to answer questions and offer our expertise.
For more information and a full calendar of our upcoming events, please visit our Exhibitions page. And as always, feel free to get in touch, and a member of our team will be more than happy to help.