The Importance Of High-Quality Manufacturing Equipment
As experienced spring manufacturers and suppliers, we offer a complete service from laser cut prototypes to full production, combining technology with expert quality to develop our clients' designs into durable and adaptable products.
There is no doubt that the manufacturing industry (ourselves included), relies heavily on high-quality equipment to produce large volumes of the very best products every day. In this blog, we'll look at the benefits of having new equipment and technology on hand.
Fully Equipped Manufacturing Plants and Facilities 
Our philosophy relies on our ability to combine both technology and quality. We support personal service to the very highest level of integrity and this allows us to repeatedly meet the ever-changing requirements of our customers and the market we operate in.
Our experienced design team works with a host of specific custom requirements and our well-equipped manufacturing plants allow us to offer a wide range of products and services. 
We offer industry leading solutions for pressings and wire forms, including all forms of springs, gas springs and wire forms, as well as on-site powder coating, barrel rumbling, polishing and shot peening.
By using the latest CNC automated spring coilers and wire forming equipment in the industry, we can deliver generic wire forms orders and bespoke pieces. We believe that by working with the latest technology, our highly-qualified toolmakers can design and make the best quality bespoke pressings and bespoke stampings.
The Latest Manufacturing Tools and Technology 
Our fully equipped toolroom incorporates the latest WEDM machines and in-house 3D CAD. Technology is important to us, enabling both design and manufacture progression, multi-slide, single operation and assembly tooling.
When it comes to manufacturing compression springs, we have the production capability to manufacture up to 400,000 units a day. This is achieved by investing in the very best in spring manufacturing technology. In total, we have over 20 coiling machines, including the likes of Wafios FUL and FES making up the majority of those.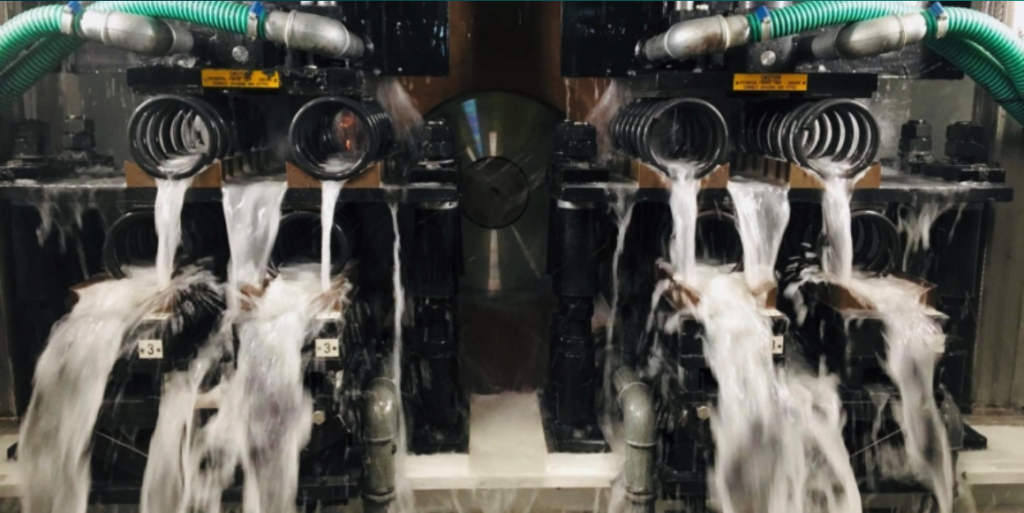 In late 2019, we installed a Bennett Aqua Grinder at our Redruth site which completely revolutionised our grinding capabilities. The powerful machine's eight heads and integrated water-cooled grinder enhanced our large wire grinding quality and grinding overall, meaning that we could quadruple our output and improve efficiency.
By investing in this new high-quality equipment, we can work toward faster production times, increased product quality, as well as encounter fewer errors in production. In addition to this, we have a programme for monitoring and improving the environmental aspects of our processes and are proud to be certified under ISO 9001-2000 and ISO 14001.
Bespoke Pressings & Bespoke Stamping Equipment
Many of our bespoke pressings and stampings are produced from metal strip, carbon and stainless steels. Our wide range of technologies make it possible to select the production that best suits each individual product, meaning that we can also produce from flattened wire and non-metallic materials such as melinex. 
So, whether you need 10 or 10 million components, we can work to your requirements. We also work with a number of different materials in thicknesses from 0.05 – 4 mm, so if you require something more specific, please do not hesitate to speak with one of our advisers.
High Quality Bespoke Springs
With over 70 years of experience in creating custom springs (and bespoke pressings) for our clients, European Springs are proud of our position as industry leaders. 
Our high quality springs can be manufactured in all shapes and sizes with over 12,000 choices available. We can also create bespoke springs that are suitable for absolutely any job or application. 
When you choose us as your bespoke spring manufacturer, you can be confident that you're depending on a member of The Institute of Spring Technology and the ISME, with high-performance spring designs and durability guaranteed.
---
Here at European Springs & Pressings, we're always researching the latest and greatest technologies on the market, capable of growing our business as one of the UK's leading spring manufacturers.
We currently have the capability to provide a whole host of products, both for single and bulk orders which means that we can offer the perfect solution no matter how big or small your project is. Contact us today to see how we can help with your next venture.