How First Aid Training Enhances ESG Practices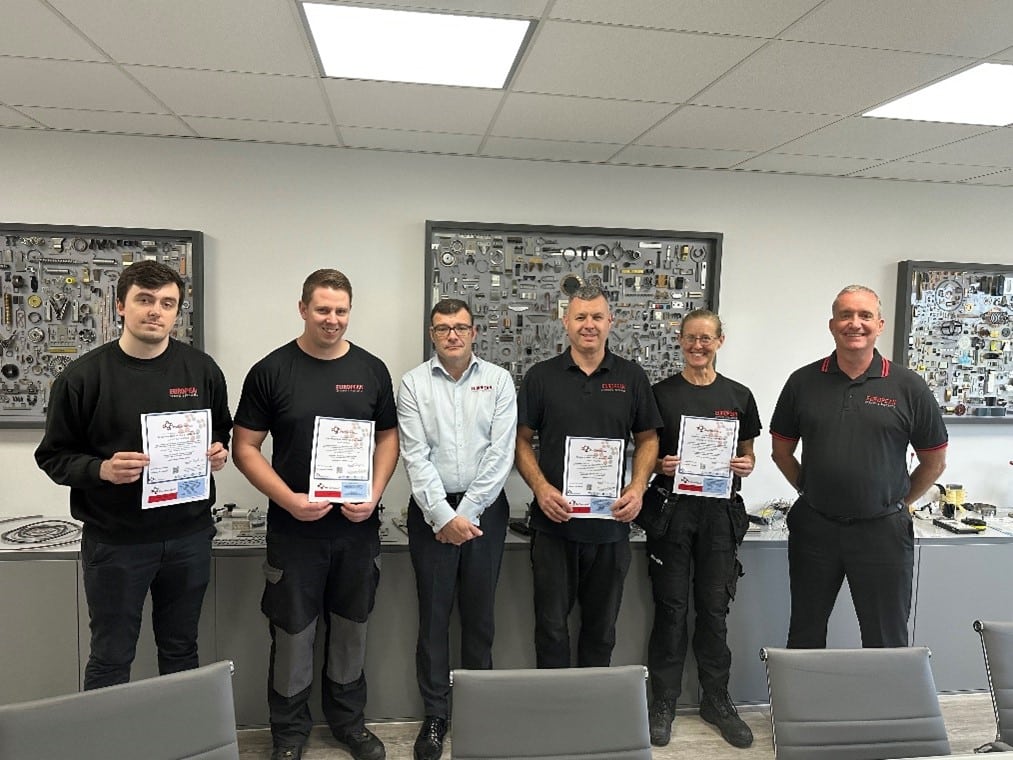 In the manufacturing industry, prioritising safety and sustainable practices is essential. At European Springs, we understand the importance of integrating Environmental, Social, and Governance (ESG) practices into our business operations. So, with this in mind, we have decided to switch up how we conduct first aid training.
Recently, we changed the way our Company First Aid Team are trained. Our HR Manager, David Purvis, is a qualified First Aid at Work Instructor and has taken on the challenge of teaching all the first aiders in-house.
So, in this blog, we will explore how this in-house first aid training plays a pivotal role in enhancing ESG practices and how our team has found the shift in training. So, whether you are part of the manufacturing industry or simply interested in how first aid training contributes to a safer and more sustainable future, we aim to inform and enlighten you.
What Are ESG Practices?
ESG practices consist of three core elements which contribute to long-term sustainability and a positive corporate image:
Environmental responsibility, which focuses on minimising the company's impact on the environment.
Social responsibility, which involves creating a positive impact on employees, communities, and society at large.
Governance, which focuses on ethical management and responsible decision-making.
By integrating ESG practices, companies can mitigate environmental risks, reduce their carbon footprint, and drive innovation towards growth and success in their field. They also demonstrate a company's commitment to responsible business, improve brand reputation, drive long-term growth, and align with the expectations of investors, customers, and society.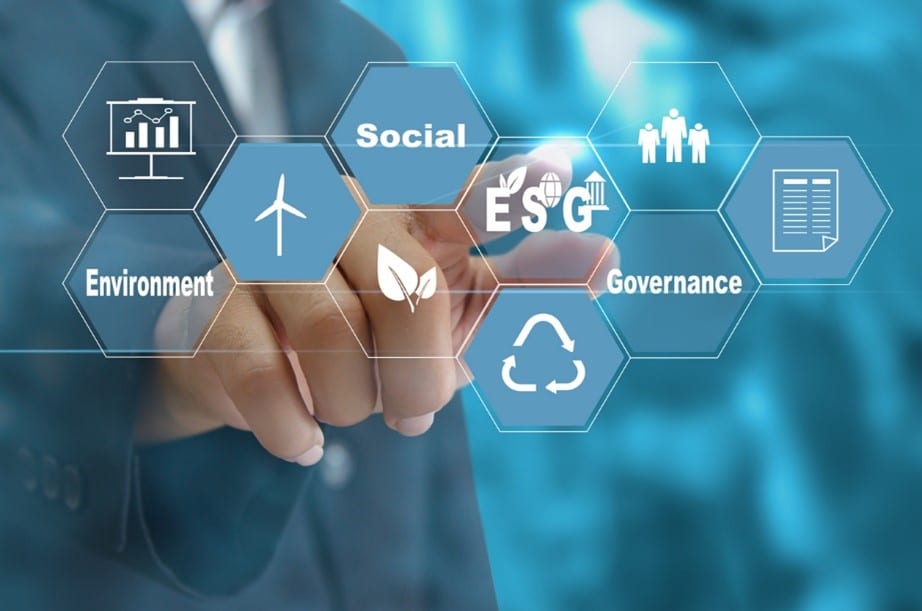 The Benefits of First Aid Training on ESG Metrics
First aid training is crucial for several reasons and is necessary in all workplaces, especially in the manufacturing industry. However, it also impacts a company's ESG metrics; let's take a look at how:
Increased Employee Safety and Well-being. By providing first aid training, the team at European Springs demonstrate our commitment to prioritising the safety and well-being of our employees. This training equips them with the necessary skills to respond promptly in emergencies, reducing the risk of injuries and accidents.
Enhanced Response During Environmental Emergencies. Environmental emergencies pose significant risks to both human health and the environment. With first aid training, our employees are well-prepared to respond effectively to such incidents, which showcases our commitment to sustainable solutions.
Positive Corporate Image and Reputation. Prioritising first aid training contributes to a positive corporate image and reputation. It showcases European Springs' commitment to employee well-being and responsible management. Aligning with the governance aspect of ESG practices, our dedication to first aid training demonstrates our ethical approach to business operations.
In-House First Aid Training: Enhancing ESG Practices at European Springs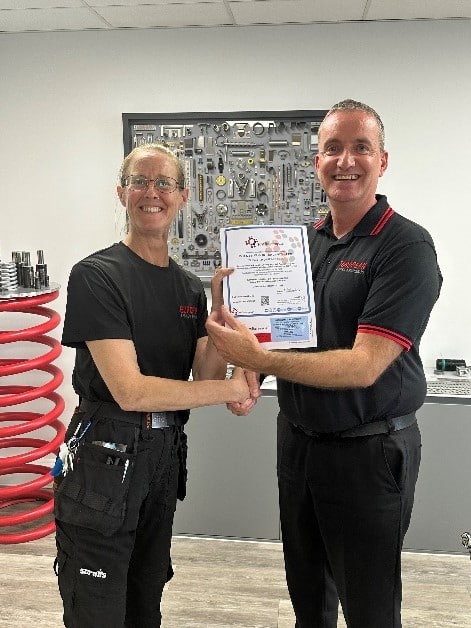 First aid training is integral to our commitment to ESG practices at European Springs. We not only comply with manufacturing industry regulations as spring manufacturers but aim to exceed them. That is why we decided to bring our first aid training in-house, led by our HR Manager and First Aid at Work Instructor, David Purvis.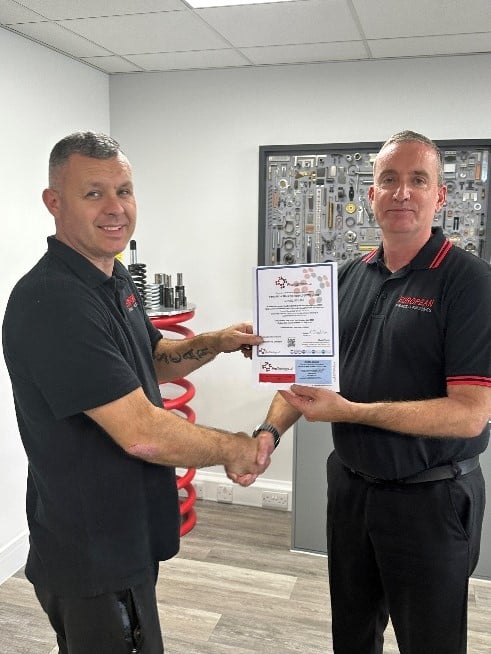 This began with training four new members of the First Aid Team: Daniel Gillam, Jane Merrick, Alan Lowing, and James Gathercole, who recently undertook the three-day First Aid at Work course. David says the recruits performed brilliantly during the training and passed with flying colours, joining the other first aid team members, ready to react to any emergency situation. To ensure they remain ready at all times, refresher training is in the planning process, alongside anumber of practice scenarios which will take place throughout the year. David said, 'All first aiders must be able to draw on their knowledge and training at any point, so it is important that we keep their skills fresh and up to date with regular training sessions'. By training our first aiders ourselves, we can ensure that all training is relevant, up to date, and that the instructor is on call in case the team has questions about first aid situations before they arise.
Stuart McSheehy, Managing Director for European Springs, comments, 'It's a fantastic position to be in, in being able to train our own people'.
Well done to the new additions to the team; let us hope that the skills all have gained will not be needed.
How Does this Impact ESG Practices?
First aid training plays an essential role in enhancing ESG practices in the manufacturing industry. By prioritising employee safety and well-being, responding effectively during environmental emergencies, and cultivating a positive corporate image, European Springs demonstrates its dedication to ESG practices.
In addition, our dedication to the 'S' element of ESG is showcased in our ability to bring our first aid training in-house. As mentioned, this is because it provides an excellent upskilling opportunity for our recruits and gives them hands-on instruction with a member of the European Springs team. This could be the difference in them feeling comfortable enough to ask a question, which, in turn, could be the difference between them remembering exactly what to do when faced with an emergency.
Whatever it takes, we remain committed to providing top-notch first aid training and equipping our workforce with the skills they need to create a safer and more sustainable future. Let us embrace first aid training as integral to building a safer and better world together.
For more company updates and to stay connected with the European Springs team, check out our blog or follow our social media channels: LinkedIn, Facebook, X, and Instagram.