Winner Of The Young Woman Engineer Of The Year Award Announced
10/12/2014
This week saw this year's winner of the Young Woman Engineer Award announced, in a special ceremony held in London, designed to celebrate and recognise the outstanding achievements of women in engineering. The Young Woman Engineer Award (YWE) was launched back in 1978, and this year's ceremony saw it celebrate its 38th anniversary.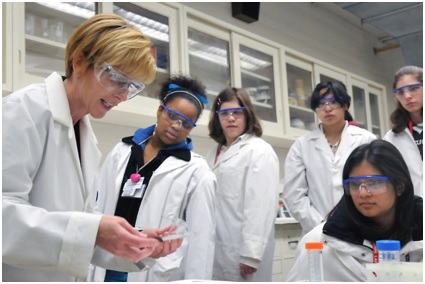 This prestigious award, which is awarded by the Institution of Engineering and Technology (IET) aims to honour the best early career female engineers here in the UK. This year's winner was Naomi Mitchinson, who graduated from the University of Edinburgh in 2009 with a MEng in Electronics and Engineering. After graduating, Mitchinson went on to specialise in cyber security, working on a variety of exciting projects, including laser warning systems for military aircraft.
As well as rewarding the fantastic achievements of its winner, the award is also designed to help encourage others to enter the engineering field, by highlighting what a worthwhile and exciting career this can be. The IET believes that initiatives such as this, which recognise and reward the groundbreaking achievements of the best female engineers, are a great way to inspire the next generation of female engineers. For example, winners of the award also play an important ambassadorial role for the IET, acting as role models, and participating in a variety of activities designed to engage young people.
There's no doubt that schemes such as this are needed in order to boost the number of female engineers and raise the profile of women in engineering. Indeed only this week it was reported by The Times Higher Education that, despite millions having been spent on government initiatives designed to increase female participation, the proportion of female engineering graduates has hardly changed over the past ten years. Furthermore, according to the IET , currently only 7% of the engineering workforce here in the UK is female.
Here at European Springs we are proud to be a part of the engineering industry and appreciate the exciting and rewarding nature of careers in this field. We are leading spring manufacturers and are able to provide a range of high quality products to meet your individual needs and requirements. For more information about our range of products and services please do not hesitate to contact us.
European Springs