What Have European Springs Been up to Lately?
Exhibitions and trade shows are essential tools for establishing and maintaining connections and relationships between businesses. At European Springs, we have found that attending these shows is an excellent way of speaking with people face to face. We value taking the time to discuss our high-quality springs and pressings with the other attendees and have a chance to observe their exhibits in return.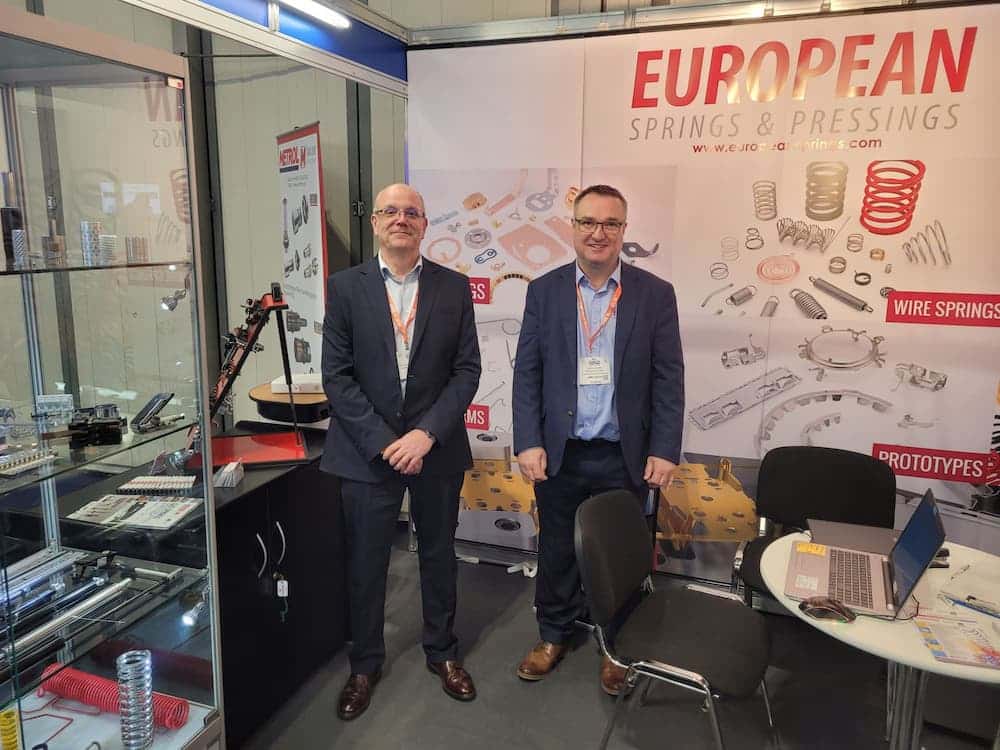 SOUTHERN MANUFACTURING & ELECTRONICS
The Southern Manufacturing & Electronics exhibition at Farnborough International Exhibition Centre was our first exhibition of the year. From Stand A135, members of our expert team, Andrew Edwards and Mark Fox, spent three days in one of the most comprehensive industrial exhibitions in the UK.
DATA CENTER WORLD
The Data Center World exhibition hosted in the London ExCel was a fantastic opportunity for our team to immerse themselves in the digital infrastructure, with this being the most significant global gathering of specialists, engineers and innovators worldwide. And with our expertise in data-based manufacturing, we are confident we made a considerable impact.
UK MANUFACTURING & SUPPLY CHAIN CONFERENCE
The UK Manufacturing & Supply Chain Conference was a stand-out addition to our attended events this year. Hosted in Milton Keynes in March, we were one of many exhibitors to contribute to this national forum for manufacturers and all companies at any stage of a supply chain.
MEDICAL TECHNOLOGY UK
The Medical Technology UK Exhibition, hosted in the Ricoh Arena in Coventry, was a chance for our speciality in bespoke wireforms to shine. Our innovative solutions for custom spring designs have been commissioned for a wide range of medical machinery worldwide. So we were excited to explore possible new applications for our products at this event.
MACH 2022

MACH 2022 took place from 4th – 8th April 2022. This outstanding event hosted by the Manufacturing Technologies Association was a fantastic few days where you could observe a tremendous showcase of advanced engineering and manufacturing techniques from across the whole sector. With over 25,000 visitors across the five days, including seminars and unrivalled networking opportunities, it's easy to see why we were excited to take our place at the UK's premier event for engineering-based manufacturing technologies.
And once again, our experts, Andrew Edwards and Mark Fox, were eager to make an appearance in the Birmingham NEC and discuss how European Springs could assist with any company's manufacturing needs, such as supplying high-quality tension springs. With all the various machines and technologies presented, it was a chance to meet new people and a great insight into the advances developed for the sector.
National Manufacturing and Supply Chain Conference
We were excited to attend the National Manufacturing and Supply Chain Conference in May. This prestigious event held in Dublin was a perfect couple of days where our team cultivated many new positive business relationships and built connections with various industry colleagues.
We observed many companies from various industries exhibiting alongside us at the TEC, including our fellow member of the Lesjofor group, Metrol Springs.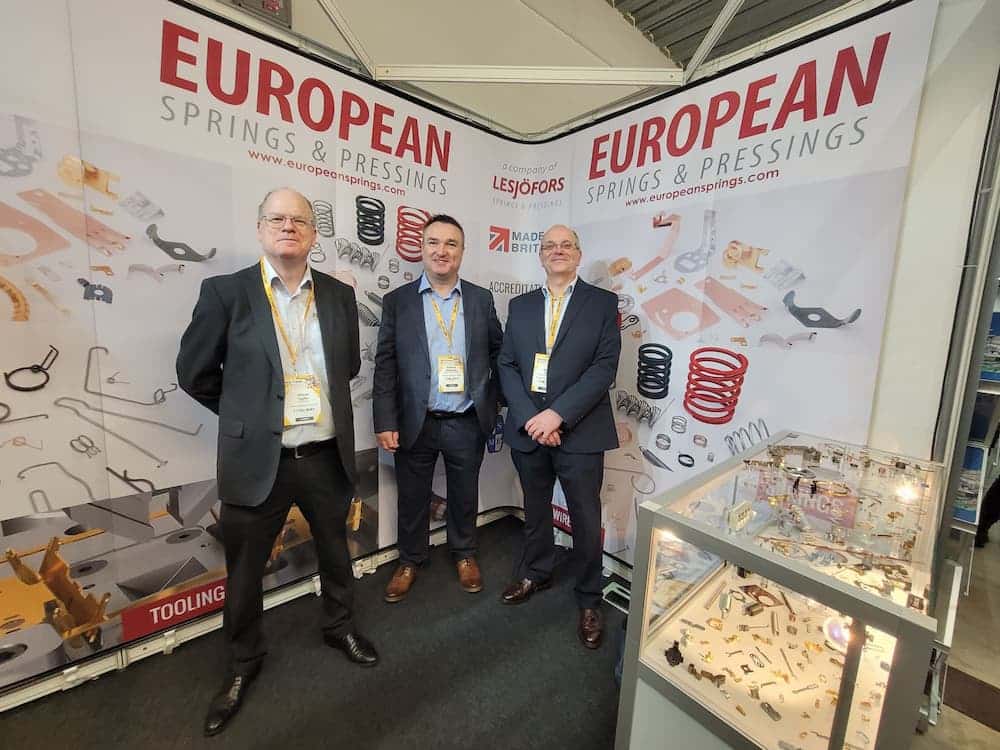 SubCon 2022
This exhibition is the UK's premier subcontract manufacturing supply chain event. Held in June at the NEC, we were present with many other company representatives to witness the 45th anniversary of this vital networking event.
Andrew Edwards and Mark Fox were eager to share how our superior work processes can benefit the creation of our client's desired components. From stand D100, they were able to discuss the varying ways we can manufacture a variety of high quality springs, stampings and wire forms. It was a lively event that enabled us to not only meet new clients but also to see current and previous clients face to face and present samples of our specialist manufacturing expertise in person.
WHY ARE EXHIBITIONS IMPORTANT?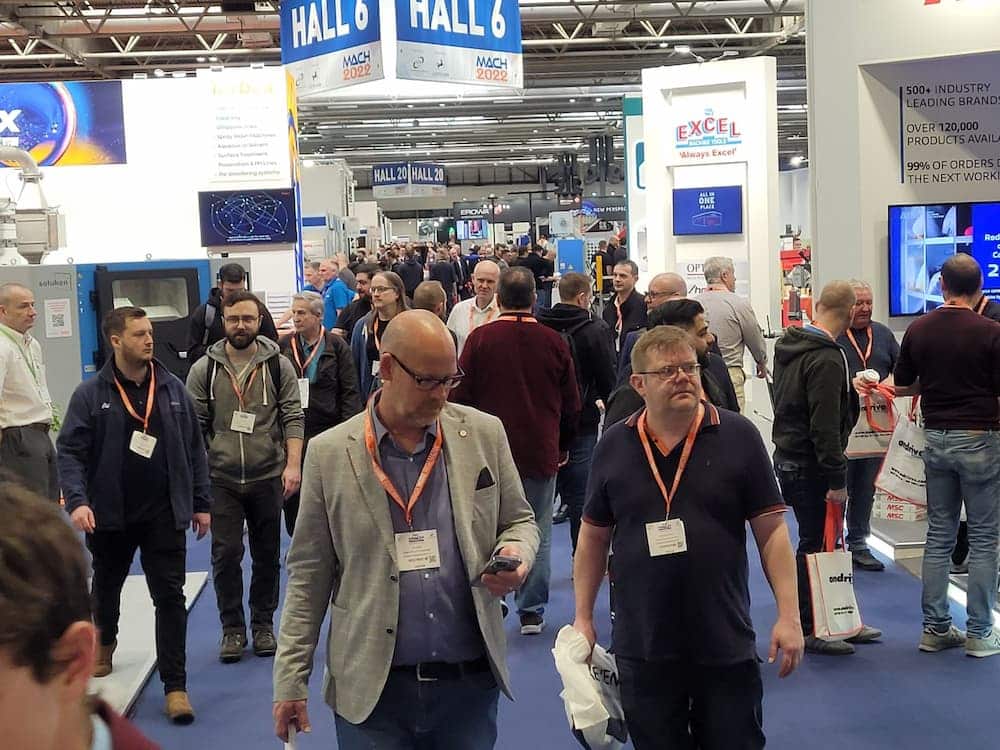 We are proud of our high attendance record for the conventions, exhibitions, and expos this year, and we plan to continue attending as many as possible throughout the year. But we believe that simply visiting an expo is only half as effective as taking the time to exhibit at them. So, why do we find exhibitions so important?
Firstly, the new connections that will be made will explain why we value attending events. Whilst finding new clients is desirable, it's not the only helpful business connections you can find by exhibiting. As a manufacturer of compression springs, finding new business partners is an excellent way to help strengthen the supply chain and will be crucial for finding new ways of increasing your long-term profitability.
Meeting potential clients face to face is one of the unique benefits gained from exhibiting. Whilst conducting Teams calls and email bursts to contact people is a valid method of communication, there is no substitute for being in person. Clients will feel more relaxed when they can get any of their questions answered in person and avoid any potential misunderstandings that could happen with online communication.
One of the ways we have made ourselves a leading company amongst spring manufacturers is by consistently increasing our brand awareness. So when our team mans a stand at a manufacturing show, we proudly present our brand and display the confidence essential for an internationally renowned manufacturer.
Exhibitions not only give you the chance to present yourself to the industry, but you also get an opportunity to observe other companies within your sector. In addition, expos are great places for new announcements such as new product launches, services or new machinery. This assists with the previously discussed brand awareness and gives you a chance to see how the other attendees receive this new release. Additionally, it allows you to get a sense of what your competitors are getting up to. These two data sets will be vital for deciding how you want your business to proceed.
EXPERTS IN BESPOKE WIRE FORMS, PRESSINGS AND SPRINGS
At European Springs, we constantly look for innovative ways to improve our already effective processes and strategies. As a result, we are confident that whether our customers desire our stock of torsion springs or require bespoke pressings, we will provide what they need in a high-quality, cost-effective product.
If you would like to visit our team in person, please follow our social media announcements on Facebook, Twitter, or LinkedIn for updates on all our upcoming plans.
If you have any questions about the products and services we provide, please contact us today or call us at 0208 633 1800, and a member of our expert team will happily answer all your questions.