Robots With…Feelings?
14/04/2015
Sci-fi is fast becoming reality.
Nothing illustrates this better than the recent advances made in the revolutionary field of robotics, which have seen the line between human and machine become ever more blurry.
Humanoid robots have long since been a feature in Hollywood blockbusters. But if recent reports are to be believed, then Blade Runner-like robots may one day be in our future too.
Intrigued? Then read on as we explore the wonderful world of 'feeling robots'.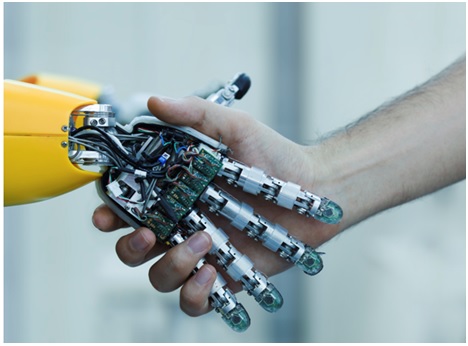 Say Hello to Han
A humanoid robot capable of mimicking human expressions has been introduced to the world at the recent Hong Kong electronics fair.
Nicknamed Han, the robot is able to interact with people in a way no robot has ever done before.
Controlled by a total of 40 motors, at the touch of a button Han can smile, laugh, frown and wink. Oh, and he can also act like he's downed a beer or two as well!
This remarkable robot has a disconcertingly human-like appearance. This is largely owing to the innovative rubber-like material used to form the robots skin. Known as Frubber – flesh rubber – this specially designed engineering material is a kind of elastic polymer capable of mimicking human skin.
Han is a pretty clever chap too. He can answer simple questions, and has some rather awesome conversational powers – pretty amazing right?
If you're wondering what makes all this possible, it's down to an innovative piece of technology known as pattern recognition software.
This, paired with an array of cameras located in the robot's eyes and chest, allow it to read human facial expressions and respond in kind with an assortment of its own. These cameras also allow the robot to determine both the age and gender of the person it's talking to.
According to the developers behind the robot, Han represents a major breakthrough in the development of human-like robots.
Han's a little creepy to be sure, but this latest foray into humanoid robots is definitely pretty awesome.
Meet Pepper
These days, robots can not only respond to our facial expressions, they can react to our moods too. Don't believe us? Then meet Pepper :
This humanoid robot is designed to read – and even more amazingly respond – to a user's moods.
The robot uses an 'emotional engine' – an artificial intelligence system that enables it to analyse human gestures, facial expressions and vocal tones.
What's most remarkable about this robot is that, rather than being programmed to behave in a certain way, Pepper instead learns how to behave over time.
The robot also tailors its interactions based on the mood they observe a user to be experiencing. For example, if Pepper identifies that a person's emotional state is sad then they can adapt to this by trying to cheer them up!
The robot can mirror a users emotional state too – a behaviour which increases our propensity to feel a bond with them.
As these awesome examples show, whilst robots don't actually feel emotions – yet- they can definitely appear as if they do!
So next time you're thinking of calling someone a robot… think again.
As leading  compression spring manufacturers, here at European Springs we know a thing or two about innovation.
Our pioneering spring products are used for a vast array of applications, including in the field of robotics, and who knows, maybe one day they might be used to make person-like artificial beings too!
Want to know more about our range of products and services ? Then contact us a member of our friendly team today, by giving us a call on 0208 663 1800.
European Springs