How Origami is Shaping New Engineering Structures
10/09/2015
The mesmerising Japanese art form has become one of the main influences for new engineered structures which are able to withstand weight and fold flat for easy storage and shipping.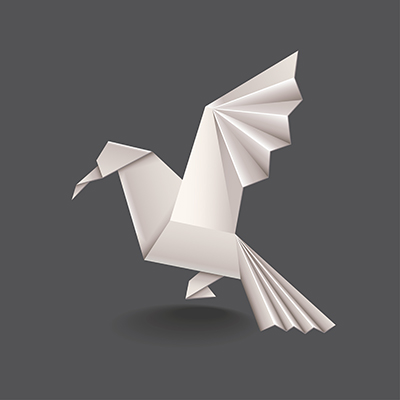 A team of researchers from the University of Illinois, Georgia Institute of Technology and the University of Tokyo have come together to create a new "zippered tube" which can make paper structures strong enough to hold weight, taking inspiration from the paper folding techniques used in Origami.
Miura-Ori
The technique which is used is known as Miura-ori- creating precise zig-zag shapes using strips of paper which are then stuck together to make a tube; two of which were then interlocked, which prompted the researchers to find out that the two tubes connected in this way provided a much stiffer structure which was harder to bend or twist.
This configuration of interlocking tubes has also been reported to work with tubes which incorporate different fold angles, mixing up the geometry and making the structure more adapatable.
Glaucio Paulino, a former professor of civil and environmental engineering who worked on the research state that "The geometry really plays a role," "We are putting two tubes together in a strange way. What we want is a structure that is flexible and stiff at the same time. This is just paper, but it has tremendous stiffness."
What's Next?
So, what are the researchers predicting this new technique could be used for?
There has been talk that the technique could be applied to other materials, allowing for even stronger, more flexible structures made from a more durable substance.
Some of them believe that the adaptability and flexibility of the tubes can be the turning point for many different engineered structures, such as:
• Easily assembled emergency shelters
• Bridges
• Rebuilding infrastructures which have been damaged by natural disaster
• Towers
• Furniture
• Microscopic Robots
We think that it's an incredible feat which takes a unique paper art form and turns it into a potentially powerful engineering tool which could revolutionise the way in which future engineering projects are designed.
Evgueni Filipov, an Illinois graduate researcher who worked on the project stated that "Origami became more of an objective for engineering and a science just in the last five years or so,"
"A lot of it was driven by space exploration, to be able to launch structures compactly and deploy them in space. But we're starting to see how it has potential for a lot of different fields of engineering. You could prefabricate something in a factory, ship it compactly and deploy it on site."
We're excited to hear how this project progresses and where this new technique will be implemented first. As leading torsion spring manufacturers, we love hearing about these unique advances in technology. If you would like to find out more about our innovative spring solutions, don't hesitate to contact us online or by calling  0208 663 1800.
European Springs