Happy New Year from the European Springs and Pressings Team
31/12/2014
We thought Christmas had come around fairly quickly, but if that was the case then it really doesn't seem like 12 months since we were welcoming in 2014. Whether the time has flown or not though, New Year is here once again, and the team here at European Springs and Pressings would like to take this opportunity to wish all of our valued customers a happy and healthy 2015.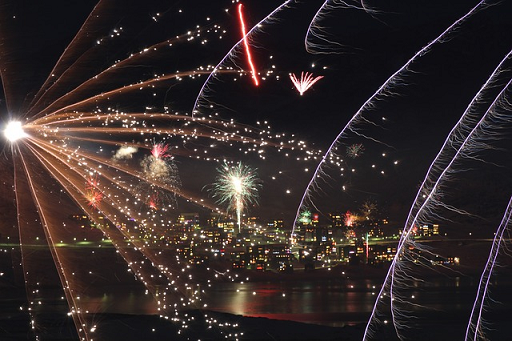 The close of one year is always a great time to take stock of the last 12 months, and it's fair to say that we've very happy with how 2014 progressed, so thanks to all of our customers for playing your part in this success! We've hit some pretty special highs this year. For example, who'd have thought that we'd have been able to provide components for the 'Wind Cloud' sculpture at the Tatton Park RHS Flower Show? What's more, who'd have thought that the 'Wind Garden' that housed this creation would be honoured with the Best Elements Garden award? Not us, but rest assured that, despite the surprise, we were delighted. A really outstanding moment for us, no doubt about it.
On a more 'mundane' front, we've continued to soldier on with the day-to-day routines that are common to professional spring manufacturers, and we're proud to say that we continue to lead the way when it comes to the quality of our springs and pressings. In the New Year, you can count on us working hard to maintain that crown, so whether your demand for springs comes in bulk, or needs just a few finely crafted bespoke components to ensure success, we're confident that we'll be the best option to meet your needs. It goes without saying that we'll be looking to improve our service wherever possible too, so watch this space!
You can also be sure that we'll carry on sharing all of our business news with you using our blog, and we'll bring you all the latest talking points as normal too. It's been another good year for engineering feats, and several individuals have already been acclaimed on the New Year Honours lists, but most of the UK will continue to look forward to 2015 in terms of how the 'engineering crisis' is being tackled. It's a worry, but with so much attention now focused upon attracting new talent into engineering, we feel sure that there'll be some sign of a breakthrough in the not too distant future.
Once again, we wish you and your business a very happy and healthy New Year, and we look forward to welcoming you back – or perhaps greeting you for the very first time – in 2015.
European Springs