Everything you Need to Know About Die Springs
At European Springs, we manufacture a wide range of springs for many different industries and bespoke pressings and wire forms, so you're always getting exactly what you need for your project, no matter its specifications.
Our extensive catalogue includes die springs, which are considered a version of compression springs. In this article, we're looking at what these springs are, how they work and their applications.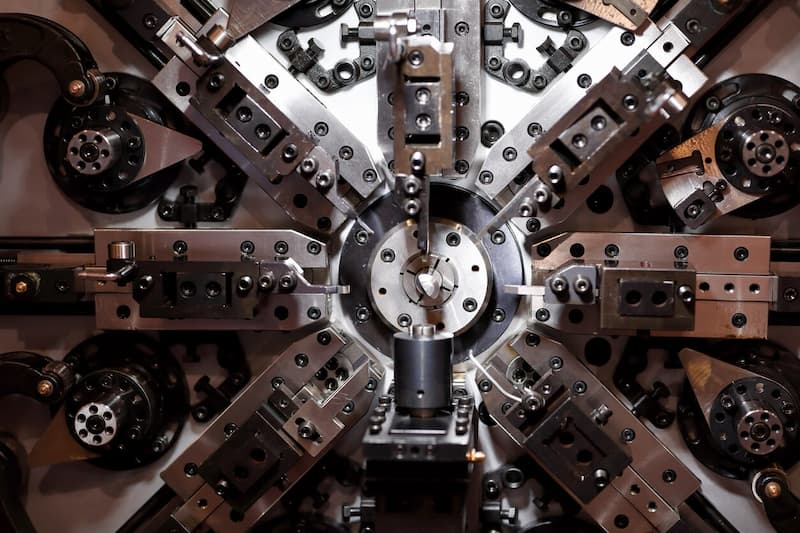 What are Die Springs?
First things first, knowing what die springs are can help you decide whether they're suitable for the application you have in mind.
As part of the compression spring family, these products are made to withstand applied stress. However, unlike other compression springs, die springs are made from rectangular wire and designed to handle considerable pressure. As a result, they can take a higher load (around 30% more) and are resistant to high temperatures, as they continue to function well up to 475oC.
The use of rectangular wire makes all the difference since it boosts the efficiency of the spring by allowing it to store more energy in a smaller space when compared to traditional springs.
How Do Die Springs Differ from Other Compression Springs?
Die springs might be similar to compression springs, but they are purposefully created to handle a large amount of environmental stress, which is why they're also known as high force compression springs.
These products are incredibly reliable and can be designed with various strengths, perfect for several different applications. Die springs can come with closed or open ends, depending on the product's end use, and are also colour-coded according to strength.
This allows you to easily choose the correct spring for your project – we can also help you make a decision, so chat to us on 0208 663 1800 if you have any questions we can answer.

Benefits of Die Springs
We've already touched on some of the advantages of using these types of springs, but they provide many other benefits, such as the following:
Excellent performance in high-stress settings
Resistance to high temperatures
Available in several materials, including steel and chromium alloys
Variety of designs and sizes
Cost-efficient
Handle higher loads when compared to other compression springs
Resistant to wear and tear
Have a great degree of flexibility when it comes to their applications
Perfect for heavy-duty environments
Increased fatigue life
Reliable load-bearing surface
Consistency when it comes to dimensional requirements
Where to Find Die Springs?
As we're die spring manufacturers, we understand these springs are crucial in applications that require a high degree of force in a small space, which is why you can usually find them in industrial settings, such as heavy-duty machinery.
Die springs are also used in:
Vehicles, including brakes and clutches
Aircraft engines
Farm equipment
Drills, such as those found in the oil and gas sector
So, it's clear that these high force compression springs are typically used in factories, warehouses, the transportation industry, the agricultural industry, and more. This range of uses shows how highly versatile they are!
Quality Die Spring Manufacturing
Everyone at European Springs knows the importance of quality manufacturing when it comes to springs, pressings and wire forms, and this is true of all types of products, such as die springs.
We have many years of experience in custom spring design, which allows us to understand our clients' needs and requirements, no matter how difficult they are or how demanding their industry or sector is.
Not only do you always receive products designed to last, but you can also be confident that our springs will be delivered to you promptly so that you can take your products to market faster.

How European Springs Can Help
As bespoke pressings and spring manufacturers, we can produce both rectangular and circular wire springs, which are suitable for different applications. When manufacturing a product, we take into account factors like the material of choice, the diameter of the wire and the size of the spring, and also the environment the spring will be used in.
This helps us ensure that you're getting the right product for your needs. Sometimes, this can mean opting for traditional compression springs instead, as they may be the better option depending on your situation – for example, die springs are not always able to compress as much as their circular counterparts. This means that if you require a spring that can travel a lot, then a compression spring is likely the better option in that case.
Our die springs are perfect for heavy-duty use, as they offer an additional degree of resistance to environmental stresses, so browse our spring catalogue or speak to us if you're looking for a custom-made product to meet your heavy-duty requirements.
If you're unsure whether these products are right for you, we can help by advising on the best springs for your project – just get in touch for more information. We also offer a variety of other springs from compression springs and tension springs to torsion springs.