Button Clips: The Crutch of the Matter
30/04/2015
As leading spring manufacturers, here at European Springs we supply a wide range of high quality spring products, from compression springs to
gas springs
.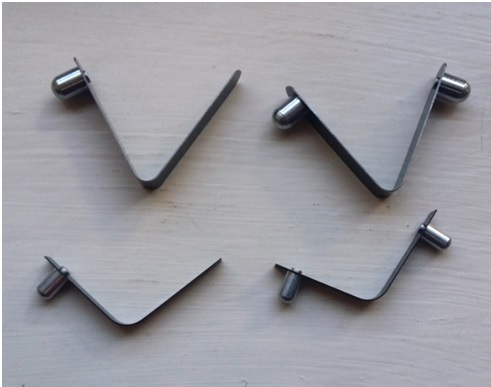 But that's not all, our catalogue of products includes a wide range of other innovative devices too!
Picture a spring and you can be forgiven for imagining a coil shaped wire form. Yet springs actually come in a whole host of different shapes and sizes.
Button clips are a fantastic example of a non-helical spring. These are used in pretty much every kind of industry imaginable, and as far as we're concerned, they're really rather awesome.
If you've ever wanted to know more about button clips then you're in luck, as here we're going to take a closer look at these mechanical marvels, Enjoy!
What Are They?
Button clips – also known as locking clips – increase the ergonomics of a product at the touch of a button.
These handy pieces of hardware allow multiple sections of tubing to be assembled and adjusted.
They remove the need for screws and bolts, reducing assembly time and increasing the functionality of products too.
They're remarkably easy to fit, and once clearance holes for the buttons have been made, the clips can be placed in the tubing and snapped into place – simple!
What are They Used For?
When it comes to button clips the possibilities are endless. From medical equipment through to furniture, these rather unassuming devices have a vast array of uses, some of which might just surprise you.
No, really, from mobility aids to furniture, they've been used to produce it all. In fact, you probably encounter these on a daily basis without even realising it!
Button clips have a wide range of medical uses. For example, have you ever wondered what allows you to adjust the height of crutches? Well, it's these little guys.
These devices are a common feature in camping equipment. They can be found in tent poles and make pitching a tent a breeze. Oh, and they're also found in the legs of garden gazebos too.
Ever ridden a bike? Then chances are you've also used a button clip there. These are a common feature on bicycles and allow you to easily adjust the height of handle bars.
Button clips are a common feature in adjustable furniture too, allowing for the fine-tuning of the height of table legs etc. – pretty neat right?!
So there we have it, a brief guide to button clips! We hope you'll agree with us when we say these hidden heroes are really rather amazing!
Here at European Springs we're proud to stock a range of high-quality button clips, including both single and double button versions.
Want to know more? Then contact us today, by giving us a call on +44 (0) 208 663 1800.
European Springs