Beijer Alma's Anders Wall Scholarship 2020
We'd like to extend a huge congratulations to Liam Tilby, who has been awarded the Beijer Alma Scholarship for 2020!
The Beijer Alma Scholarship was set up in 2016 in the name of Honorary Chairman Anders Wall. It is given to employees in group companies for their drive and creativity, which contributes to improvements and new opportunities for our group.
This is the fifth year the scholarship has been awarded, and Liam was one of two winners, alongside Dag Borgesen, a Project Manager at Norspray A/S.
The scholarship is worth £5,000, which will be used for continued skills development. This year, the grant was shared between Liam and Dag, who both showed great potential.
Liam's Story with European Springs 
Liam joined us from school, taking a summer job packing in our stores before possibly going to university. Instead, he was employed full time at our Beckenham site and attended college during the day, gaining a BTEC in Engineering. 
Nine years on, Liam has matured into one of our most effective Mechanical and Prototype Engineers, working at the development stage with customers to bring their concepts to life in a cost-effective way.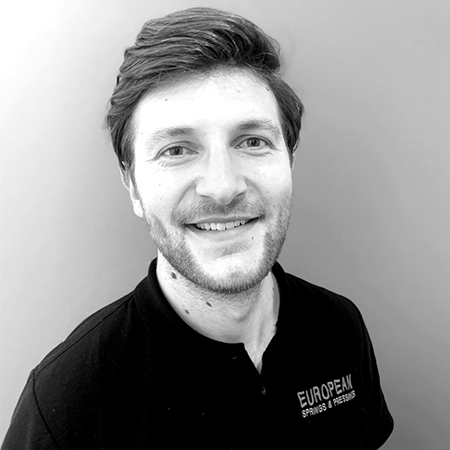 Liam works closely on new projects directly with the customer as technical support and development, playing an instrumental role in finding solutions to our customers' challenges. For example, when a new customer came to us for support after having failed with an external design house. Liam designed and developed many new items for this customer taking a verbal brief plus a few hand sketches and turned them into commercial reality.
Growth and Development 
Liam is a huge part of the team, bringing knowledge of value engineering, product development and troubleshooting.
On many occasions, he comes to work with a new idea or solution to the challenges he faces on the current projects. Liam's role is still evolving, and we foresee him becoming a key asset to the business for the future — he represents the next generation for European Springs.
Liam was delighted to have been awarded the scholarship and intends to put the money towards his personal development, investigating Business and Management courses with a Bias towards Engineering.
Usually, the scholarship winners would attend an Annual Meeting on 23rd March in Uppsala, Sweden, to receive the award on stage. This year, unfortunately, the event does not comply with Corona-related restrictions.
We'd like this opportunity to say a huge well done to Liam from all of us at European Springs!