10/06/2014
Compression springs
and
die springs
look very alike. Both are coil springs and perform very similar functions. So, in light of that fact, the obvious questions to ask are 'what is a compression spring?', 'what is a die spring?' and 'just what is the difference between the two?'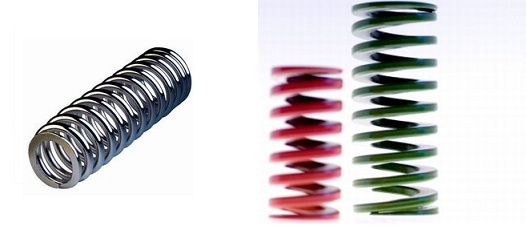 Compression Springs
Helical compression springs are the most common and most instantly recognisable springs of all. In basic terms, they are designed to resist compressive forces. As an 'elastic' coil, compression springs shorten in length when under pressure, and store mechanical energy within their form whilst they are under this stress. Because they can be manufactured in various shapes, sizes and with different ends or wire types, they can find themselves in a wide range of applications, including valves and electrical switches.
Die Springs
Die springs are sometimes referred to as 'high force compression springs' or 'heavy duty compression springs', and that really goes a long way towards describing how the two products differ. They excel even when under significant environmental stress, and they usually use rectangular wire (as opposed to the round wire used in most 'traditional' compression springs). Die springs are used when extra heavy loads need to be taken, or when higher temperatures need to be withstood, and in terms of their load range they typically outperform a compression spring by around 30%.
Similar, But Different
Obviously, just because die springs are essentially 'enhanced' or 'hybrid' compression springs, that doesn't mean that they are innately 'better'. For example, if you need a spring for a heavy machinery brake or clutch, then a die spring is perfect and will display the maximum fatigue life. However, many bulky applications will be adequately catered for by compression springs, and they come with the added advantage of being easier to make in large quantities, so it really does depend what you're looking for.
Because of their nature, die springs are very robust, but here at European Springs and Pressings Ltd we apply the highest standards of manufacture to each and every type of spring that we supply. Our methods and our technology are all fully up-to-date, and because we specialise in producing bespoke springs we also understand these devices better than anyone, so you can count on us to create the very best springs according to whatever specifications you have in mind.
If you have a need for either die springs or compression springs we're ideally placed to help, and our high quality products are the very finest that you'll find anywhere. To find out more, please contact us by calling +44 (0) 208 663 1800 or send our professional and customer- focused team an email at info.bec@europeansprings.com.
European Springs