09/02/2015
In previous parts of this series, we looked at invisibility devices and the world of future entertainment; in part three we look at the future of our military forces, and the future is Iron Man.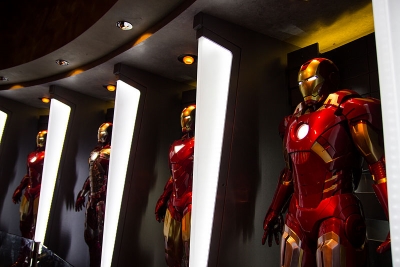 Whilst the fictional Tony Stark famously created his first suit in a cave with a box of scraps, the real life version has the resources of the US military behind it. The project is formally known as TALOS, which stands for Tactical Assault Light Operator Suit.
The aim, naturally, is to offer soldiers better protection and improved abilities. It's thought that it could include super-human strength, sensors responding to brain functions and liquid armour. We are not expecting flight or gauntlets which shoot repulsor rays, however, and the addition of an English butler A.I. seems unlikely.
Indeed, from the trailer-style video above and sketches which have been released, the suit looks more like the Master Chief character from the Halo video games than it does the iconic Iron Man – then again, red and gold are not the best camouflage colours!
The US military are not working on the project alone. In something of a revolutionary approach, they have recruited several Hollywood prop makers and entrepreneurs from Silicon Valley to work on the suit, bringing a wide range of different engineering skills and specialities to the project. Existing exoskeleton suits – such as those used to help paraplegics walk again – are being used as inspiration and as a starting point, and 3d printing facilities usually used for movie props have been put to work in creating the prototype.
There isn't a great deal of specific information released about the project, for obvious reasons, but a prototype was put through its paces last summer and it's thought that TALOS could be in action as soon as 2018.
Although the suit itself is exciting, the approach taken to its development may have a significant influence, too. By drawing in expertise wherever it's available and creating an almost crowd-sourced atmosphere, the US military may be able to generate a more innovative approach and open themselves to more creative thinking.
Here at European Springs, we've lent our specific expertise to a wide range of clients in a variety of industries. If you'd like to know more about our products, from disc springs to wireforms, please get in touch with us on 020 8663 1800 today.
European Springs